This debate is worth listening to. It made a refreshing change to hear some honesty and courage as panel members tackled the questions raised which included present corporate and personal value systems. Each brought a unique perspective, knowledge and experience to the debate. These people are specialists in their field, they are serious about change and they are courageous enough to say it as it is and to publicly question the ethics of some organisations.
The central theme for the debate "Is Leadership for Sustainability possible in a market economy?"
Questions were raised around ethics and the breakdown of a capitalist economy. Siva Sabaratnam shared Barclays new framework based around a client focussed, socially useful bank. Victor Adebowale reminded us that banking is a public service and that Barclays had 'an appalling, shocking, service record' and questioned any framework based on words and called for demonstrable evidence. Victor raised issues about 'moral hazards' in banking and why people will lose their homes when interest rates rise. This good humoured but frank exchange was a great start to set the tone for the remainder of the debate. Carolyn Roberts opened up the question of 'what is a good leader? ', offered some surprising examples and noted the Aldersgate Group as a possible exemplar. Bill Scott asked 'how can we help the market economy that we're stuck in to evolve to make leadership for sustainability possible?'. Kynton Swingle added the student perspective and pointed frankly to the fact that leaders 'dictate to students – and have a reputation of not doing what they say'. Dan Goss supported this view with points about social justice and green washing. The ethics of Coca-Cola were discussed in the context of its sustainability agenda amidst a marketing model of selling sugary, water based drinks.
The debate covered the sustainability of Cities, Climate Change as symptom, the Biosphere's ability to keep us alive – and the big 6 power companies acting more like an energy cartel.
At the end of the debate I talked to each of the panel members and learnt that Carolyn is passionate about water and investment in technology (Carolyn is concerned the technology is often forgotten); Bill questioned why we had bottled water at the event; Victor tells us we have to believe in the future; Siva has a message to everyone to take personal ownership to affect change; Christopher Poole talked about composting … and losing his worms. Lesley believes in the impact of the individual and the need for corporate wisdom. Dan believes we have lost sight of our priorities and reminded us to operate as human beings in our day to day life. Kynton summed up the debate by saying he enjoyed listening to people with values, 'not just all talk … there is some good out there'.
Questions to the panel
1. What critical issue defines a sustainable society, city, business and individual?
By Michael Goodfellow-Smith, Director of Development at Sustainability West Midlands
2. How can those who are battling for market share be persuaded to act against their own self interests to deliver future benefits for society as a whole?
By Worcester City Councillor, Lynn Denham.
3. What do the panel think of Ofgem's warning to the big six power companies of their failure to cut household bills despite a slump in wholesale costs? Is this proof there are no ethics and the market is uncompetitive?
By energize-worcester student energy advocates.
University of Worcester, Debate, The Hive, Worcester, June 13, 2014
Recorded by susthingsout. 
Thank you to the Chair
Lesley Murphy is NHS England Area Director for Arden, Herefordshire and Worcestershire and a director of Anume ( A new me) a health and wellbeing company. She has an MBA and postgraduate qualifications in Marketing and Cross Sector Partnership. She's a Certified Co-Active Coach, a Fellow of the Chartered Management Institute and the Royal Society of Arts and a member of the International Coaches Federation. She has held a number of board level roles in the Public, Private and Third Sectors leading transformation and change programmes.
Thank you to the panel
Lord Victor Adebowale MA, CBE, Chair of Institute for Collaborative Practice in the Delivery of Services to the Public based at London South Bank University and CEO of Turning Point;
Professor Carolyn Roberts, Oxford University and Director of the Environmental Knowledge Transfer Network (KTN);
Professor William Scott, Emeritus Professor of Education at the University of Bath;
Professor Christopher Poole, holds the Chair of Medical Oncology at the University of Warwick;
Siva Sabaratnam, Relationship Director, Barclays, London, focusing on global multinational corporate clients;
Dan Goss, BSc (Hons) Mathematics student at the University of Warwick;
Kynton Swingle, President of Worcester Students' Union.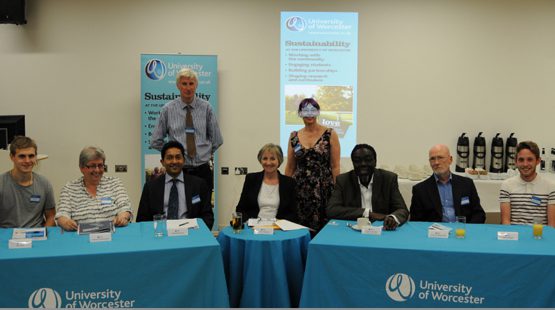 Image (left to right): Dan Goss; Professor Carolyn Roberts; Siva Sabaratnam; John Newbury; Lesley Murphy; Katy Boom; Lord Victor Adebowale; Professor William Scott; Kynton Swingle