Worcestershire Vegans & Veggies have been setting up stalls at the student led Go Green Week for three years. They offer vegan, vegetarian and meat free food samples to students and staff.
They are also happy to inform students about the benefits of a vegan diet and they help those interested in becoming vegan, vegetarian, or wanting to reduce the amount of animal products in the food they eat.
A multitude of students swarmed into the SU after their lecture; plates full of delicious vegan and vegetarian food awaited them. Sweet and savoury food from quorn sausages to chocolate brownies and flapjacks. What got students' attention was that everything they saw was free to taste.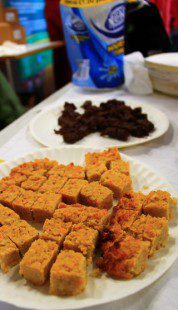 Sally Thompson, who studied Physical Geography at the University of Worcester, is now representing the Worcestershire Vegans &Veggies Group.
"People don't get the opportunity to try these products. If you don't know what the food is like, you might be reluctant to spend money on it," she said.
Once people try the food many  are curious about the diet and want to know more. Displayed next to the samples were leaflets and recipes for those interested in knowing more about the group or the diets. Sally Thomson and Ronnie Lee chatted with students, offering information on the benefits of vegan and vegetarian and meat free lifestyle.
One year, Sally reminisces
"This well-built 'typical' rugby player tried the meat free burger and really enjoyed the taste. He  beckoned his friends over, encouraging a large group of friends to try the samples. He said he was leaving to go buy some immediately."
The food on display were both homemade and shop bought. Experience has taught the group if its presented like this, with examples of how ingredients can be used to make simple tasty dishes, it attracts attention and shows how simple it can be. All the supermarkets now sell a wide variety of 'free from' products. Sally also recommends visiting Revital in the Shambles in central Worcester as they have a wide range at affordable prices.
Over the years their presence on campus has converted some people to become a vegan or vegetarian which pleases them greatly. Sally attended this university as a newly formed vegan and lived quite easily and cheaply, a lot of people thought she had to have a lot of money to live a vegan lifestyle, but she reassured them she didn't have to. This makes people feel confident by hearing that it's quite a simple and economical way of life.
"Being affordable chimes well with students"  she added
If you have an interest in becoming a vegan, a vegetarian, or simply care about reducing carbon emissions by eating less meat can get involved with Worcestershire Vegans & Veggies.