Today, day three of Go Green Week, was all about traveling in a sustainable way! I had the pleasure to meet our own Pearl the Polar Bear while she was preparing to board the bus along with Jim 'Worcesterwood' and even got a group selfie with them and my fellow publishing assistants!
The highlights of today:
Pearl spreading awareness amongst the public
Even though I myself could not go on the bus with them Jim, Pearl and the camera crew, I managed to get some pictures of the preparation! Pearl was dancing around and introduced herself to the nursery children from UniTots who were passing by!
They were extremely excited to see a polar bear and to be honest some were a bit scared. However, Pearl was extremely gentle and high-fived the children who were brave enough to stroke her. After greeting the kids the team went on the bus and introduced the public to Go Green Week and Energize Worcester! The initiative drew loads of attention and were interviewed by Worcester News and will have a live interview on Friday with BBC Hereford and Worcester. Keep an eye out for the video coverage of their journey (I can't wait)!
Igloo build
The lovely first year students taking the Sustainability Elective module started the construction of the igloo they are making for the children from UniTots!
I asked Elisia Lakin for a bit more information on the project. She told me that they wanted to make something which would get the children involved.  They were supporting the great work of the nursery who teach sustainability with the kids, in their own parallel Go Green Week interested. The students collected more than 500 milk bottles as those are frequently bought and used in the University of Worcester and are perfect igloo building. The materials were collected with the help of the Aramark the University caterers. The igloo will be officially presented to the children on Friday, how exciting!
The Sustainability students were also advocating for sustainable travel by asking people to commit to using more sustainable means of transport. I personally signed and decided that I will try to walk as much as I can. So, shout out to everyone: get on your bikes, have a walk, take the bus if you are in a hurry, just leave those cars in their parking spaces!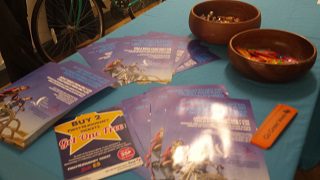 Electric Trike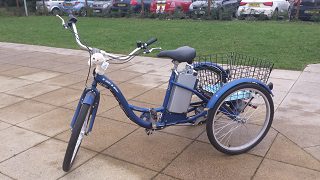 The electric trike with tiny Pearl was going around campus and students and staff alike were able to take on the opportunity to have a go at it! Some of the students even posed for me!
Day Four tomorrow with Energy! Energize Worcester will teach how to be more effective in relation to our personal energy use and the Hippie evening!