Low carbon opportunities for Worcestershire's small-medium enterprises will be presented at the Renewable Energy Marketplace Event that will take place on the 11th of July 2017 at the Worcestershire Country Cricket Club.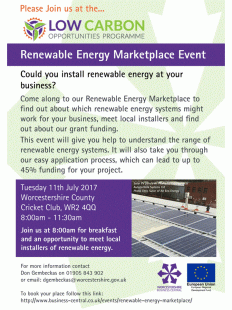 The Low Carbon Opportunities Programme will deliver the event which will start at 8.00am with breakfast. The event will provide information for businesses regarding renewable energy and the funding that is available for small-medium enterprises.
The Low Carbon Opportunities Programme is a ERDE funded programme that is providing financial support and grants for up to 100k for Low Carbon Innovation or Renewable Energy Generation projects. The support and assistance on offer will be highlighted allowing businesses in Worcestershire to understand the range of projects and funding that is available and how they can undertake projects to reduce their carbon emissions.
This event will provide an opportunity for Worcestershire small-medium enterprises to learn and explore the support and funding available for energy saving and renewable systems. More information can be found here on the Renewable Energy Marketplace Event Presentation or please contact Don Gembeckas on 07905 843902 or at dgembeckas@worcestershire.gov.uk