Living Sustainably as a Mum
Written by Tanya Carpenter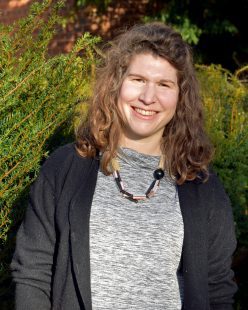 Actually, I never watched Blue Planet. I had guessed the punchline already and knew it would be a depressing one (I was right). It didn't take the Blue Planet for me to figure out that plastic doesn't just dissolve into the ether (not without leaving behind some nasty chemicals).
My journey into plastic reduction really got started about a year after I became a mum.
When you become a mum, everything is throwaway and everything is plastic. Bottles of formula milk get opened, left out for over 2 hours and thrown away with an only 5ml drunk from them. During weaning, rejected pouches of liquidised spag bol get thrown out after one teaspoon has been eaten and spat out. Wipes come in plastic packets with a hard plastic top which gets thrown away, the wipes themselves get used in absolute abundance. And then, there are the nappies.
Reader, did you know that if Henry VIII had worn nappies they would still be kicking around somewhere in a landfill now?
They still would not have degraded. That is frightening. Great, along with mother guilt, now I had mother-earth guilt too. Something had to be done.
So I started to do my research…
What reusable items were out there that I would be prepared to invest in? It was already pretty hipster to have a reusable mug and water bottle but reusable tissues?!
The first and easiest thing was toilet paper, it might be easy to get recycled toilet paper in the supermarkets but it often comes in plastic packaging so what's the point? The crowd-funded Who Gives a Crap have cleverly recycled office books and paper into toilet paper, which they wrap and box in paper. Great, good start. Oh, and they also give 50% of their profits towards building toilets for communities in need.
But this was never going to be enough, I was ready to make bigger changes and now my family was on board too (mostly). I started searching for 'eco-supermarkets', 'eco-stores', 'plastic free shopping' and I found Boobalou an online store run by a mum of two in Surrey who 'offers reusable replacements to disposable household products'. Perfect, I carefully weighed up the options of spending £30 on the kitchen towel and face wipes vs NEVER buying them ever again and decided to make the investment:
Reusable wooden washing up brush and replacement heads
Reusable coconut husk scrubbing pads
Reusable kitchen roll
Bamboo toothbrushes
Reusable face wipes
A stainless steel lunch box
What I noticed immediately when the items arrived was how much joy they sparked (thanks Marie Kondo), I was actually looking forward to having a spillage to wipe up with these really nice looking kitchen towels. I couldn't wait to pack myself a lunch in this lovely lunchbox.
And you know what? It's been a year now and that feeling hasn't really subsided, I still really enjoy snapping the pieces of kitchen towel together with their buttons after they've come out of the wash. I still get lots of comments on my lovely stainless steel lunchbox. I love lining up my freshly washed face wipes on the windowsill to dry and then stacking them all together in a nice neat pile for my daily facial routine.
Reusables – More wasted water?
You're probably thinking that all those reusables mean more washing and that's not eco-friendly either, but actually, these items are so small that even piled together they wouldn't constitute a third of a full load of washing. They get thrown in with clothes and barely make a dent.
What about the food?
So that was my reusables sorted, but what about the plastic packaging from food? Moving to Worcester from London in April last year has made it even easier to make some really substantial changes. Back in our little pocket of suburban London, my husband and I dreamed of opening a refill store of our own. Not because we especially wanted to but because we figured no-one else was going to do it and we really wanted one. Locally, no-one seemed especially interested in zero waste and there were very few plastic free options in the local shops.
'Pack it In'
So, you can imagine my excitement then when less than 4 months after moving to Worcester I discovered that Worcester's first refill store 'Pack it in' was going to be opening. When I'm shopping in Pack it in I really start to feel like I'm doing something good in a more substantial way for the plastic problem. I was always a fan of pouring all my unattractive packets of dry goods into lovely storage jars, but to be able to do it and bypass the nasty packaging altogether. My kitchen cupboards have never looked nicer and my bins have never been emptier. Plastic packaging; reduced.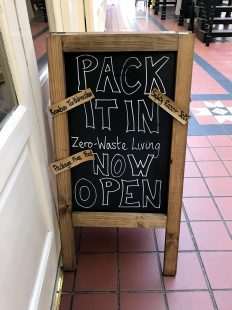 My latest change has been yoghurt and soft cheese maker. I already get milk delivered in glass bottles, so now I don't have to leave the house to have yoghurt and soft cheese either. I had a bread maker already and those are my two plastic reducing machines. I haven't bought a loaf of bread since 2016.
So I'm pretty sure that I've been able to make some really substantial changes in my family's plastic use and just about gotten away with avoiding any claims that I love tie-dye or wear socks and sandals or am going to make a long drop in the garden. I'm still the same person I was, just no-one asks for a tissue at my house anymore… (yes reader, I went there!).
So, how big is my change?
Written below is a comprehensive list of the changes I've made to my family plastic reduction that I believe to have in some way, made a difference. I'd love to see more people do more as I think it can be really rewarding and I love chatting about the changes other people have made too!
Kitchen towel
Cotton face wipes
Wooden washing up brush and refills
Coffee cup
Water bottle
Travel cutlery
Straw
Shopping bag
Produce bags
Baby wipes
Coffee, decaf coffee, tea, decaf tea, mint tea
Pasta, macaroni
Muesli, cereal, porridge, granola
Seeds, nuts, dried fruit
Lentils, rice, grains
Herbs and spices
Fabric conditioner
Hand soap
Milk in glass bottles
Bread maker
Yoghurt and soft cheesemaker
Shampoo
Conditioner
Body moisturiser
Shower gel
Deodorant
Bamboo toothbrushes
Double edged, refillable razor
Things I no longer have to go out shopping at all for:
Yoghurt
Soft Cheese
Bread
Razors
Baby wipes
Nappies
Kitchen towel
Tissues
Cotton wool pads
 Tanya
---