Although the title is rather cheesy, the pizza making workshop gave a slice of the life of working at Pizza Hut.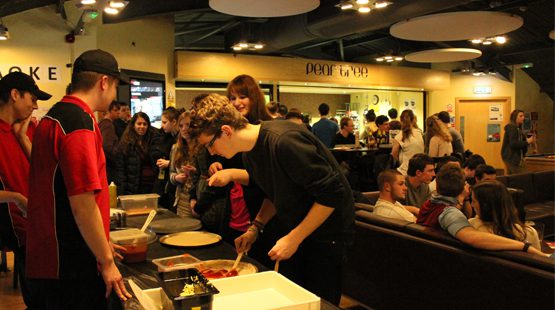 How to make your own pizza
Step 1
Put the dough into a greased pan and smother it with flour.
Step 2
Flatten the dough with your fists to make the base thin.
Step 3
Grab the dough from underneath and stretch it to the sides.
Step 4
If you're right-handed, place your left hand down on the dough tightly and pat it down neatly.
Step 5
Pour three-quarters of a cradle of tomato or barbeque sauce.
Step 6
Swirl the sauce around like a spiral with the bottom of the cradle (which is the professional way) or simply paint in colours and go crazy in all sorts of directions.
Step 7
Sprinkle handfuls of cheese onto the sauce.
Step 8
Shove it in the oven and when ready, enjoy!
The pizza hut staff explained to the students briefly about cleanliness and hygiene within the industry. The students took their time stretching the dough, but the staff said they had to learn how to do it really quickly under pressure whilst still making sure it looks presentable.
Pizza Hut are part of the Yum Group.  The Yum Group have made a clear commitment to people, community and environment in their Corporate Social Responsibility .  This is just one example here at Worcester of how they are supporting their communities.
After finishing the large Italian-style pizzas, students were very full and satisfied.
Now that you've seen how easy and fun it is, why not give it a shot at home? It's incredible how much money you can save if you just follow a basic recipe or just buy a packet of pizza base mix from any supermarket for under £1 and add water.