About Skills for Tomorrow
 June 2016 saw the University of Worcester holding its fourth school's careers conference. The 'Skills for Tomorrow' event took place over two days and was attended by around 200 pupils from secondary schools across Herefordshire and Worcestershire. Following an inspirational introduction by a prominent key note speaker, the pupils then took part in a range of activities including:
Completing a job role analysis activity
Interacting with demonstrations by a range of professionals from local, national and international businesses
Specialized workshops featuring activities and challenges linked to sustainable business practices in
tourism
food production
transport industries.
Designed and led by industry professionals, experts and university student sustainability mentors, to raise pupil's awareness of the good career opportunities there are within most sectors requiring sustainability skills. The exhibitor hall business representatives shared with pupils their responses to sustainability and the job roles in their organisations where sustainability skills are required. There were even bespoke sessions for accompanying teachers.
Students were helped to realise what they and their families can do to live sustainably, from fitting LED bulbs through to retrofitting flow rate adapters to shower heads.
Many thanks to our all collaborators and supporters, with special mentions to Val Carter CSR director at Aramark, and Robin Walker MP for their inspirational key note addresses and Rotary volunteers for their organisational prowess.
Watch a short video or read the SFT Brochure 2016 to find out more:
 The food workshop introduced pupils to the complex nature of food production from its source to their plate, exploring sustainability dimensions at each stage and considering the varied jobs and skills required. They also had the opportunity to see how many miles food travels to make it to the shop shelves. Pupils were tasked with developing their own ideas for making and selling a healthy food product which has a low environmental impact – and compete with each other for customers for their products in a presentation session. This is what the pupils had to say about the workshop:
This has been a very interesting and fun experience today - I have learnt loads of information about how to make food production sustainable and how travel is becoming more modern and effective. It's fun to learn about all of this! Callum (14), The Chase School. 
About the Transport Workshop
 The workshop began with a fun exploration and comparison of two buses, one traditional and the other modern. This was followed by discussions about transport and sustainability, considering congestion, pollution, health issues and affordable transport. Students were then challenged to think about what changes could be made to encourage the public to make greater use of  current public transport systems. Working in teams to create innovative solutions, pupils were asked to design a 'bus of the future' which would increase the number of people using public transport instead of cars.
The teams came up with some fantastic future buses, this is what they had to say about the workshop:
I like all the creative activities that we have done today such as designing a bus for the future. it has been great fun! Silas (13), The Chase School

Everything that I have seen today has helped me understand how to help the environment and how I can help in the future. I enjoyed the public transport workshop the most because I thought I had quite a good idea (club class transport). Oscar (14), The Chase School

I have enjoyed today as it has helped me to understand how to think for the future generation. I enjoyed Buses with Carl the most as it was creative and Carl was hilarious. I would like to come back and study more about saving energy and to hear Carl's laugh again! Finn Ellison (11), Christopher Whitehead Language College
Watch a short video to find out more:https://www.youtube.com/watch?v=lUoxtbN93ms
About the Tourism Workshop
Within the tourism workshop pupils were introduced to the challenges faced by tourist destinations when trying to adopt a more sustainable approach, including construction, resource efficiency, pollution and access.  In teams they designed a tourist information centre for a historic site containing Roman remains. Pupils were challenged with thinking about what facilities would be needed, the location of the centre so that it was convenient for visitors without causing damage to the local environment and how to manage the increase in visitor numbers whilst benefiting local residents and businesses. At the end of the workshop the students were asked to write down on a piece of paper what they had learnt from the workshop. A taster of the comments:
I have considered how to design an eco-friendly building. I have also learned that you have to think about the lives of citizens and how it will affect them.

In America, they created a wind farm, and people did not object. So I learnt that if you're clever, enough you can create something beneficial for the community and use less energy.

I have learned that when new tourist destinations are created it must not just benefit tourists but also locals.

I have learnt how to become sustainable when it comes to building construction, and I learnt how to find alternatives that are better for the environment.

I have learnt about sustainable energy, and also all people access, so things like building access for disabled people. You also have to think of what the benefits can be for the local community.
About the Exhibitor Hall
The purpose of the exhibitor hall was to show pupils the exciting range of sustainability related jobs currently available, and provide a sense of the number of business sectors integrating sustainability into the work place. Representatives from both local and global businesses were present and students were invited to browse the exhibits in small groups and question the business representatives about their work.  This offered great opportunities for students to engage with business professionals and inspiration for potential future careers. Many of the exhibits offered activities and/or demonstrations, experiences included sampling chocolate crickets from an innovative new company breeding crickets for human consumption to a display of water flow rate adapter for improving the water efficiency of shower heads!
The following companies exhibited in the hall and helped pupils to match their personal job roles analysis within their own industry sector and company: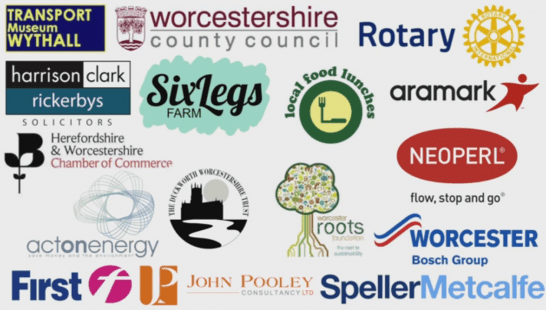 The University of Worcester featured in the exhibitor hall. Workshops on digital literacy, robotics, designing a business card for your future careers and Java programming.  Java is taught to second-year undergraduate students at the University, and for pupils to gain experience in coding can be of great benefit and can open a wide variety of careers for them.
The format for the day was devised by a group of representatives from the University of Worcester, Worcestershire County Council and Worcester Rotary Club and the educational content of the workshops was developed by members of the STEM team from the Institute of Education at the University.
Continuing Professional Development for teachers and CREST Discovery Award
Whilst pupils were busy with their workshops staff also had an opportunity for learning and enhancing their skills to teach sustainability and were invited to a specially designed teacher event, led by Alan Young from the 
Engineering Development Trust
.
As a bonus, by completing all the 'Skills for Tomorrow' activities, pupils were able to meet the requirements to achieve a CREST Discovery (Sustainability) Award, through the scheme promoted by the British Science Association. 
 If you want to sign up for 2017 click here
Watch a short video to find out more: https://www.youtube.com/watch?v=lUoxtbN93ms