Tell it and speak it and think it and breathe it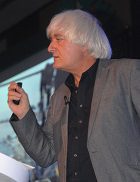 Mark Edwards is one of the few environmental communicators to have personally witnessed the global issues that are defining the 21st century. Assignments for magazines, NGOs and United Nations agencies have taken him to over 150 countries.   One of the most widely published photographers in the world, his pictures are in many international museums and private   collections. In 1985 he founded Still Pictures, the world's leading photo agency specializing in the environment, social issues and  nature.
In 1969, I got lost in the Sahara desert. A Tuareg nomad rides out of the mirage and rescues me. He takes me to his people, goes into a tiny hut and reappears with two sticks, an umbrella and an old cassette player.
He rubs the sticks together and makes a fire. Then he turns the cassette player on; Bob Dylan sings "A Hard Rain's A-Gonna Fall".
Armstrong and Aldrin are taking photographs of the Earth from space. These pictures are among the most profound icons in human culture. I'm surrounded by dignified, graceful people from another age. I had the idea to illustrate each line of Dylan's song. In the years that follow I travel to over 100 countries to take photographs that turn Dylan's prophetic words into images of the real world.
The Hard Rain Exhibition
Many emails later the Hard Rain exhibition launched at Eden Project in Cornwall in 2006. From Eden it went to city centres, botanic gardens and to universities. It was even shown at the United Nations headquarters building in New York. It's a pop-up exhibition, not great on presentation – it's often shown on scaffolding – but it's been seen by some 15 million people on every continent. Dylan's poetic masterpiece does not put our problems in silos – sad forests, dead oceans, a graveyard, a newborn baby surrounded by wolves, young children armed with guns and swords, poison and hunger – development issues rub shoulders with environmental problems just like they do in real life. And it's hard hitting, it shows the world as we'd rather not see it. But people didn't turn away, they walked silently along the 60-metre banner, drawn by the images in the lyric and by photographs of the real world.
Many of the exhibition's viewers demanded solutions to align human systems and natural systems to create a whole earth – whole in the sense of both unified and healed. They wrote to us at the Hard Rain Project and they wrote to politicians.
The result is a new exhibition, WHOLE EARTH?, launched simultaneously at universities around the world in 2015. It is based on the premise that the future belongs to today's young people. And it is based on the premise that students, universities and young people everywhere can play a major role in making society more sustainable. As Jonathon Porritt points out on the Hard Rain Project website, "Universities are the true thought leaders of society and if they don't lead the way, there is a risk that less independent voices fill the vacuum with their own agenda on the subject of sustainability, rather than insights based on robust research."
WHOLE EARTH? shows solutions that are working, despite the difficulty of getting political leaders to work together. And it gets personal. It invites students and their professors across all the disciplines to share the solutions they are researching. It's up to students around the world to create a huge constituency to support and bolster the resolve of political and business leaders to take the difficult, long-term decisions that underpin security for young people alive today and future generations.
Lloyd Timberlake, an acknowledged expert on sustainable development, composed the text in WHOLE EARTH?. He has written prize-winning books (Africa in Crisis, Only One Earth, When the Bough Breaks) and has served as director of communications for the World Business Council for Sustainable Development. More recently he advised President Obama's National Commission on the BP Deepwater Horizon Oil Spill and Offshore Drilling. I've worked with him since the 1970s and can add one more string to his bow: he's a brilliant juggler and has appeared onstage with the Rolling Stones.
If you give them too much talk of solutions, you create listless optimism
We gave a presentation at the House of Commons, and Lloyd ended by saying. "Sustainable development is a difficult subject: if you give people too much "hard rain" you produce listless despair; if you give them too much talk of solutions, you create listless optimism. So while talking about the problems, we remind people that solutions abound – solutions that must be scaled up if we are to avoid the tipping points that could irreversibly damage civilization. And while talking about solutions, we remind people that if we do not act quickly we risk losing the opportunity to secure humanity's future."
Help us with this project. Visit the Hard Rain Project website, listen to a beautiful, live version of A Hard Rain's A-Gonna Fall synced to the pictures and help bring WHOLE EARTH? to your community.