Concerned about the clothing crisis? Create a capsule wardrobe written by Creative Writing Student Kashala Abrahams, edited by Amber Horne.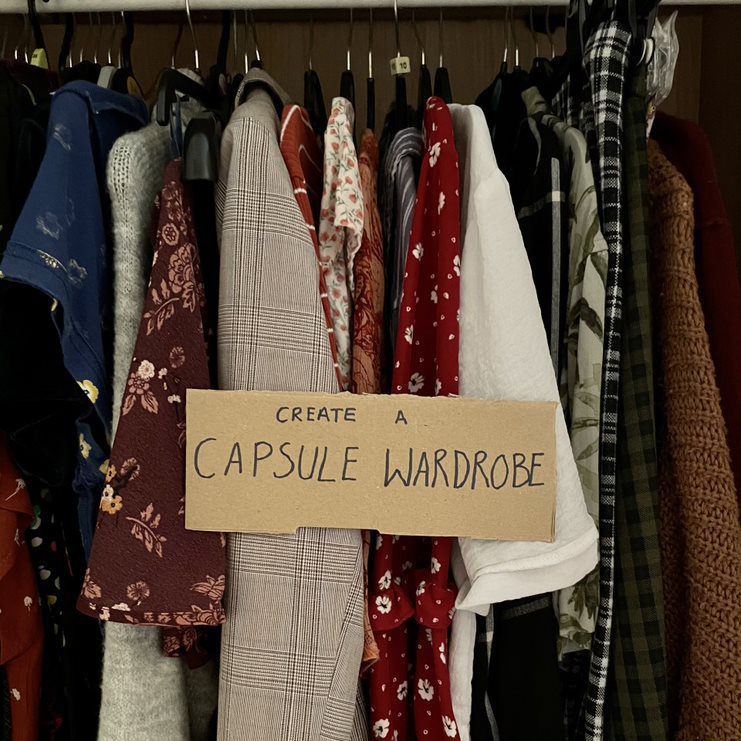 ---
How can you organise your wardrobe?
You can start your sustainability journey with the clothes you already own by creating a capsule wardrobe! With the help of useful apps and your own fashion intuition, you can streamline your wardrobe with timeless pieces that keep you always on-trend. By keeping your wardrobe limited but versatile, a capsule wardrobe enables you to start making mindful decisions as a consumer of the fashion industry, whilst fighting fast fashion's negative impact on the environment.
Some quick tips:
Think about the clothing you already own, what type of silhouettes and fabrics do you love the most? Upcycle or recycle the others that make you feel uncomfortable.
Think about the four seasons of the year: Spring, Summer, Autumn and Winter. What articles of clothing would be suitable for each new season? Perhaps jumpers, hoodies, jogging bottoms and trench and/or parka coat for the colder months? Maybe a shirt, t-shirt, dress, skirt, jeans or shorts for the warmer ones?
Colours! Neutral colours are something to consider for two reasons: they'll never go out of style, and they go with any article of clothing or accessory.
---
What is a capsule wardrobe?
The concept of a 'capsule wardrobe', a term popularised by Susie Faux in the 1970s, is a minimal collection of clothing and accessories (around 50 articles or less) that are fashion essentials. No more stressing in front of the mirror about whether your clothes mesh well together, if they are currently "in season", or if they are comfortable to wear. Not only is a capsule wardrobe more environmentally friendly, but it is also a cost-effective and easy way for you to put a fashion ensemble together.
How to curate a capsule wardrobe.
Convinced? Or at the very least, want to try it out? Great! First, you need to go on a wardrobe cleanse. Ask yourself whether you really need that shirt from 3 years ago that you haven't worn in months. If it doesn't then give it to a charity shop or a friend, and always upcycle or recycle clothing where you can! You want to be harsh during the wardrobe cleanse. Be brutal with your choices and try to get down to 50 pieces of clothing and accessories (bags, belts, etc.) to frequent when you pick your outfit for the day.
The ultimate goal is to own a capsule wardrobe of high-quality clothing that would last much longer than fast fashion clothing that you throw away within a year because of quality issues or it going out of style.
Apps that can help you create a capsule wardrobe
Save Your Wardrobe allows you to upload photos of your clothes, digitise them, and mix and match clothing that you may think does not usually go together. It also recommends clothing based on the weather, how convenient! (Especially for us Brits).
Whering is a similar app that also digitises your clothing to help you formulate an outfit. It also offers quizzes to help gauge your personal style.
---
Sustainable Instagram competition
We want to give you PRIZES to help make this change happen! All you have to do is follow the steps below for a chance to WIN!
Here's how to enter:
Comment 3 emoji's related to the post on our Instagram @uw_sustain
Tag 3 friends
You will automatically be entered into our prize draw.
Unlimited entries, follow the above steps again. Each time is a new entry.