This week the sustainability department published a three year report outlining progress with embedding a culture of sustainability across the curriculum and campus. The report draws on findings from a series of surveys that took place between 2015 and 2017 and overall demonstrates gradual movement towards a fuller understanding of the University's sustainability activities and greater personal sustainable practice amongst students and staff. It appears that transport campaigns have been effective in raising awareness of varied sustainability schemes and that there is an increasing trend towards choosing more sustainable transport options.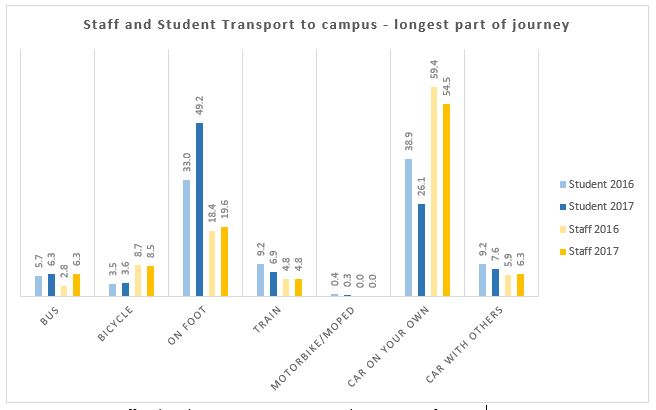 When exploring transport choice of the longest part of the journey, there is a noticeable drop in individual car use by students (12.9% reduction to 26.1%) and marked increase in walking on foot (16.1% increase to 49.2% overall). For staff the data evidences a small increase in bus use (3.6%) and reduction in their individual car use (4.2%). The report also identified substantial improvements in student and staff awareness of sustainable travel options such as bike loan, car share, the 31 bus route and the range of discounted ticket types available from First bus. Over 40% of both groups rated the university's efforts in these areas as good / very good by 2017.
Ratings for other activities such as efforts to reduce greenhouse gas emissions and promote sustainable food choices declined,  demonstrating that the university needs to increase staff and students awareness of the it's engagement in carbon reduction, and supporting individual behaviour change to accompany this.
Whilst students have remained relatively stable in their personal commitment to sustainability, there has been a substantial shift amongst staff (24.6% increase between 2016 and 2017) in those stating they were 'very committed' to sustainability (with a total of 60.9% now in this category).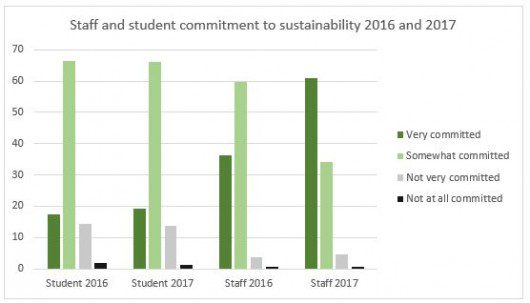 Staff have generally increased the frequency of carrying out sustainable actions between 2016 and 2017 (10 of 12 activities). The largest increases were in 'Checking recycling labels on products before deciding which bins they should be deposed in' and 'Printing double-sided to save paper'. Whilst causality cannot be proven, the latter two may be attributed in part to on campus campaigns to encourage waste separation and recycling and save paper.
Unfortunately, the number of students carrying out a selection of sustainability activities all or most of the time has generally remained stable or dropped between 2016 and 17. The largest drop was in the number of students using double side printing (6.5% reduction). This is slightly inconsistent with the increasing number who are participating in on campus sustainability initiatives , but these numbers are still relatively low.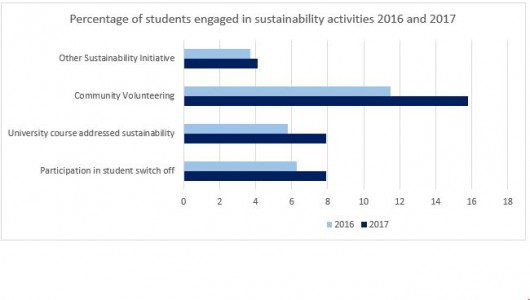 Students were also slightly less likely to agree with positive statements about the University's sustainability activities in 2016 than they had been in 2015.
The report has therefore highlighted the need to more powerfully publicise and market the University's strategic strength in this important area amongst students and staff. A range of actions have been identified to tackle the key issues identified in the final report which is available here: Report – Sustainability Attitudes