Four hundred and twenty-one University of Worcester students participated in the 2022-23 SOS UK student skills survey, the fifth-highest number of responses across the country. Students Rosie Bramwell and Fay Askew review the data and discuss what are the next steps. The University of Worcester students also took part in the 2020-21 Sustainability Skills survey which received over 8700 responses in total from students studying in further and higher education across the UK. Scroll down for the key learnings from the 2021-22 survey. The full report from our students is also available if you want the long read.
Survey demographics
The students taking part in this survey were all studying at the university with no students completing the survey from our partner colleges. Most students were in their first year 48%, and 28% of respondents were in either their second or final year.
What students found Important
Environmental Issues were noted as important in their choice of University for 50% of respondents. Global development issues were the second most important issue with 47% of students noting this when considering which institution to study at. Thirty-five students noted that one of the main reasons for taking their course was 'To improve my ability to make a difference to the environment'. Over 71% of students surveyed found it important to understand how human activity is affecting nature.
The attractiveness of the location was also deemed as important by 68% of respondents.
Equality, Diversity and Inclusion
Making the world a more equal and equitable place is an important issue for students
Over 80% of students surveyed felt that the causes of inequality in the world were an important topic to be knowledgeable about.
Almost 90% of participants believe that ethical issues that are linked to the course should be considered
Students feel that we should challenge and improve current systems such as education. 85% of students surveyed believe that it is important to understand how to create change.
How can we implement this within the Student Body?
Over 80% of students surveyed want more placements and/or experience offered by the University to increase knowledge on sustainability. Developing a sustainable plan for the future that can be easily maintained. Ensure that Student Voice is driving positive change and to work to positively contribute to and evolve the curriculum to include sustainability and decolonization.
89% of students surveyed feel that communicating complex information clearly and effectively to different types of people is important for creating change. Over 70% believe that sustainability should be built into their curriculum – and even believe that it should be a stand-alone module.
Students' Union
Worcester Students' Union has agreed to create and promote more volunteering experiences. They have also supported campaigns and events to create and promote more community for students to feel connected and supported. Significant work via the SU networks helps to ensure that communities of typically underrepresented students have a strong voice and are represented. A strong ethos exists in the SU where they consistently communicate with the students to understand the actions that the Union takes to limit the negative impact on the environment. Much of this work is led by the work of the Sustainability Network.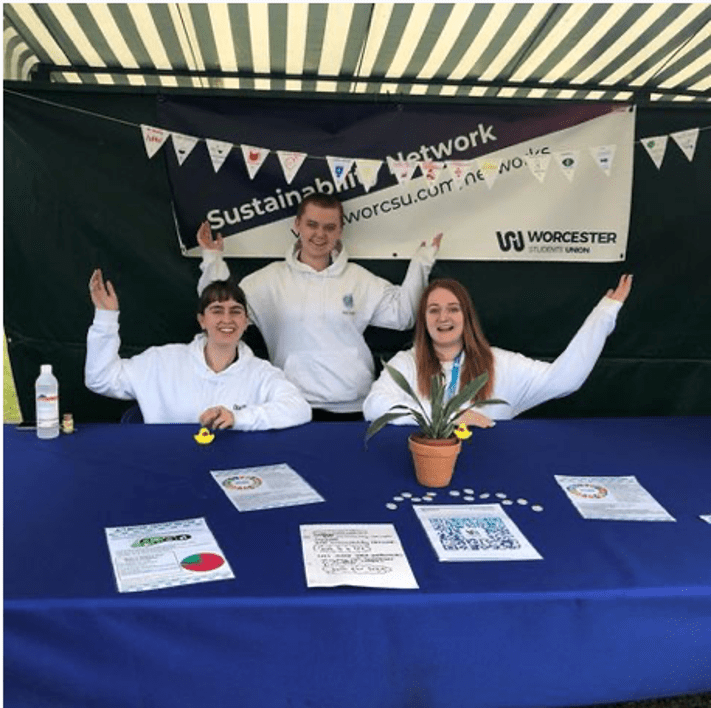 Full report is available here