With a record number of students wanting to see sustainable methods promoted in their studies (as well as getting a well-rounded education), are universities following through with the wants and needs of the people they teach? In the age of sky-high tuition fees, there's a worry about if institutions are becoming solely involved with getting you a job at the end of your degree, as opposed to bettering you as a person. An exciting workshop on this subject took place at the Student  Sustainability Conference at Leeds University to try and get to the bottom of this concern and whether we are giving students enough control.
Quinn Runkle, a representative from NUS, outlined how the integration of sustainable methods at the UK's universities needs to be altered. Advising that many of the workshop's audience how to implement change in a safe and beneficial way, she promoted a lot of ideas about the students  of these faculties having the real power, not the lecturers who are getting these ideas about teaching badly wrong.
Maeve Cohen, a spokesperson from Post-Crash Economics (a new charity that looks to change the way that economics students are taught), followed up on Runkle's opening speech by discussing how there needs to be a shift towards a new way of teaching. Describing how recent graduates have advantages over older economists, due to them lacking a fixed way of working, she made a very complicated issue very engaging because of her friendly and charismatic tone. She also related the main points of her speech back to the theme of sustainability to make it particularly relevant to the people attending the workshop.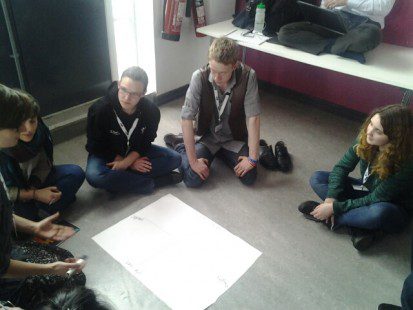 Cohen later went on to carry out a number of refreshing activities that got the audience thinking about how they felt about their situation. After asking people how they wanted to change their curriculum, she put her audience into small groups and made them plan out exactly where they thought the power was in their institution. Somewhat  worryingly,  many felt that students had the least power and didn't have the ability to properly effect the way their subject was taught. Acknowledging thus, Maeve gave a rousing speech about the 'status quo' being harmful towards future graduates. It was hard to leave the workshop without feeling motivated to change how we see education in the UK.
Our wants and (more importantly) needs from what our education gives us in the long run are massively changing. Our universities need to take and this into account and give its students a proper say in how they are taught! In this respect, this workshop was a wonderful way for people attending the Student Sustainability Conference at Leeds University to become inspired to make positive change!