The final day of Go Green Week is here! We had Nature, Food & Health, Travel, Energy and now its time for Re- use! It has been an amazing week with the first year students from the Sustainability Elective Module doing their best to raise awareness for Sustainability on Campus.
Today in the Pear Tree students and staff made use of the Repair Cafe.
They could bring anything and over a cup of tea or coffee have it fixed by some of the experts who visited us. There were a very wide range of items being fixed, from ripped clothes to musical instruments. The message of the Cafe is not to discard items when they are broken, but to have them repaired! This is extremely important as people waste a vast amount of money on new domestic appliances, clothes and all sorts of things, but they do not stop to think whether they could fix them and use them. Personally, I see this as both a waste of money and an extreme danger to the environment. It is true that now most of the waste is recycled, but there are still materials which can not be processed again. So if your favourite T- Shirt has a hole in it, or if you toaster breaks, don't throw them away and simply buy others, put in the effort to repair them, or have them repaired if you can not do it yourself. Just don't waste!
Staff and students who hadn't picked up a chilli plants from Day One (Nature) got a second chance, they were potted in re-use scrap from the Worcester Resource Exchange.
I myself re-homed three plants for me and my housemates! Hopefully with all the chilli plants given out today and on Monday we will be seeing many lovely chilli bushes all around Campus!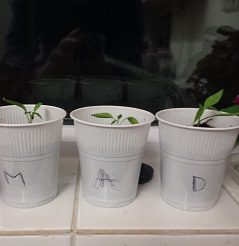 Last but not least, the students on the Sustainability Elective Module finished their gift to the Unitots nursery on campus! Even with some structural issues they managed to deliver what they promised.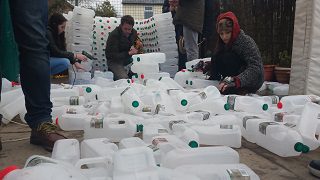 They were joined by our very own Jim Worcesterwood and Pearl the Polar Bear who were definitely in the highlights this week. The igloo, its creators, Jim and Pearl attracted the attention of the media and Unitots was visited by the Worcester Observer. I'll be looking out for the story in next week paper.
So Go Green Week is over but Going Green is just beginning! I hope anyone who got the chance to see my blog enjoyed it, I know I enjoyed writing it very much! Go Green everyone!