Another student blog, this time from students at The Chase school. They brought me over a piece of fudge from the handmade, home made Ruby's Kitchen. How sweet! They were enthusiastic about the environment and brought me fudge! Yummy!
I am now passing over too them! …
Goodmorrow earthlings 😉
It is Natalie, Amy, Meg, Mia and Eloise here!
Today the five of us have taken part in the skills for tomorrow event at the University of Worcester.
So far we have been part of five activities, all of which have helped us to learn a lot about our environment and how we need to protect it. We need everyone to help us protect the earth!
Our first activity was investigating the food miles of different foods, and thought it would be better to grow our own sugar from England, than import it from elsewhere. It made us all hungry!! Im still hungry! We got to design some food… Fudgetastic fudge was the best out of all of the fudge designs (obviously). However, we didn't actually get to eat anything though, now I'm crying my eyes out (joking).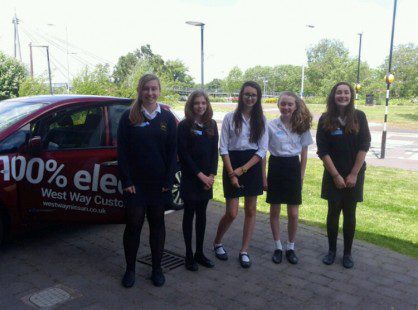 Us behind a battery powered car!
Our second activity we had to design a tourist attraction for Roman ruins and we had too remember to include things for all ages which meant we got to unleash our inner five year olds!!
For our third activity, we did a quiz on fossil fuels and the carbon footprint and Amy and I (Mia) won!! (of course). The best!
We learnt quite a lot today, there was a lot of information, but we learnt it in a fun way. I guess that's what makes it more interesting!
Thanks Skills for tomorrow!