It's not difficult to see our blighted little island as a "tiny speck" of land sitting rather vulnerably somewhere in the North Sea and within this speck more and more islands of communities cut off by floods for weeks and months. And in many of these communities there has been an unacceptable absence of resources or help in their time of crisis.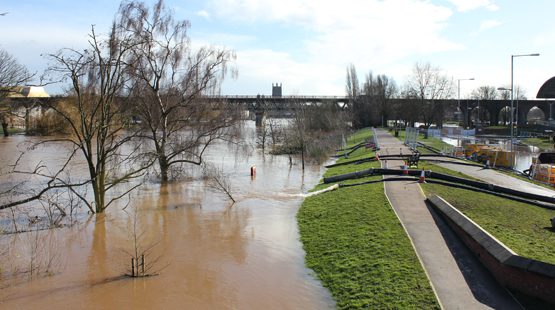 Worcester and many areas of Worcestershire have been seriously affected by flooding yet again with economic, social and environmental consequences which have yet to be fully resolved and assessed.
Chris Huhne, the former Liberal Democrat MP and Energy and Climate Secretary, captured the nature of this national crises when he argued that:
"flood defence cuts driven by deficit reduction "are part of the problem; but more importantly he said" we cannot continue learning by drowning". This short statement illuminates the "wicked un sustainable problem" we face with policies focused entirely on adaptation to climate change as opposed to trying to stop the problem. As he says: this focus on spending more on adaptation in Somerset or Worcester, for example-"is progress of sorts".
But it fails to consider two gargantuan accelerators of climate change. First is that the extreme wet weather we are experiencing is occurring now when climatologists have shown that the planet has only warmed by 0.85 degrees C since 1880 and hence we have a further 1.15 degrees C to go before we reach the 2 degree danger level that science predicts could tip us into runaway climate chaos.
Second, the rise in rainfall intensity we are now experiencing and more so in the future will lead to a fourfold increase in physical damage to property and land. This increase does not include damage to future food supplies, degradation of soils, habitat loss and diminishing biodiversity and the cost of choliform bacterial infections caused by water contaminated by human sewage. Look out the window when it next rains and just try to imagine what Worcester might look like with a 2 or 6 degree rise in global warming. Scary isn't it?
Professor Stephen Martin Honorary Professor University of Worcester; President Change Agents – UK; Fellow Society for the Environment and World Wide Fund for Nature.