During the Bristol Student Sustainability Summit, I had a workshop about how to incorporate sustainability into our curriculum and help change my course.
Its not as long- winded as it sounds!
We started off learning about how the university, the students union are all involved when it comes to sustainability, but how do we use them?
We learned about the different ways of sustainable education…
Formal – This would more likely be taught by the syllabus.
Informal – This uses measures of volunteering and societies.
Subliminal – This would be posters on the wall, or different labels on bins.
All three working together are very strong and I've certainly seen this across the University of Worcester.
We discussed our most memorable experience with sustainability and the speaker thought it was a shame that nobody's moment happened on our course at university.
It's true, especially as Drama could be such an instrumental tool to introduce advocacy.
One slide that interested me was the skills one could gain from sustainable education subtly entwined into their course.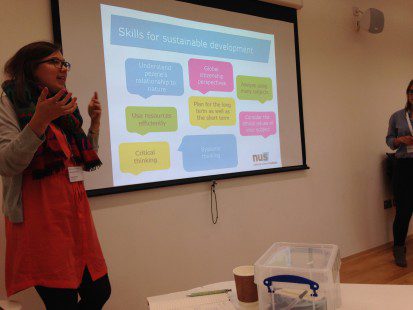 The top three for me were 'Critical Thinking', 'Plan for the long term as well as the short term' and 'Analysing using many subjects' because they seemed more employable.
We got off our seats starting an exercise involving walking to left side of the room if you strongly agree and move to the right of the room.
Here are the statements.
My curriculum (in Drama) incorporates…
Environmental issues – Strongly Disagree.
Social issues – Agree.
Economic issues – Strongly agree.
Solution skills – Strongly agree.
Participatory, democratic and real-life concern – Strongly agree.
The next one, which isn't on the photo, was 'Do you think you could implement sustainability into your curriculum?'
I quickly moved over to the 'Strongly disagree' section, when pretty much all the others were moving to the 'Strongly agree' section.
The leaders asked why, I told them that knowing the students that were in my course and they'd be put off by the thought of environment in the curriculum. Subsequently, a lady in the 'strongly agree' section explained why she moved there
Well I'm an optimist, not a realist… I like to think positively, as opposed to negative thoughts.
The whole time, looking in my direction, when speaking about realism and negativity. If she knew me, she would understand I'm extremely open-minded and positive in my outlook of life and I was not even taking my thoughts into consideration, merely the others in my class.
We had a case study from a few students, one was from Dorota Haidulcieweicz, a business student from the University of Huddersfield. She shared her story of green campaigning at her university, speaking about troubles she faced and how academics endorsed her ideas. The university eventually bought some land for allotments and she's now renovating the old greenhouses with help from all different departments of students.
 There were key things to bear in mind when we left, finding out what we could do as students to encourage our departments to add a dose of sustainability to the curriculum.
 Asking your lecturer for sustainable education on feedback forms, campaigning for a curriculum reform with other students, making your dissertation prove a point in sustainable education in that department and running as a course rep could make your voice heard. 
With that said, it was a very eventful session and I have learnt a lot on ways I can help persuade my department (or others) about including sustainability, but from the different students today, I've learnt a lot about how their course includes (or doesn't include) sustainability.