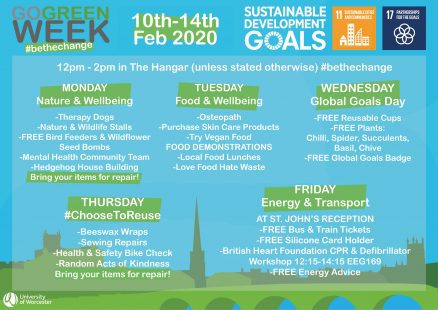 Go Green Week is back once again! Read on to find out what we've got planned for this year – notebooks at the ready…
On Monday, Nature & Wellbeing:
Spend time with some adorable therapy dogs, or visit the nature and wildlife stalls to learn more about the local life. We'll also be providing free bird feeders and wildflower seed bombs! Also stopping in will be the mental health community team, hedgehog house building sessions and the repair team – so be sure to bring in your items for repair!
Food & Wellbeing on Tuesday:
Tuesday on Go Green Week, come visit the osteopath, purchase some wonderful skin care products and try out delicious vegan food at a live cooking demonstration – it's going to smell great.
Wednesday is Global Goals Day:
Plenty of freebies and prizes to look forward to on Wednesday, including stylish reusable cups and free plants to place at home, including chilli, spider plants, succulents, basil and chive. Also, don't forget to represent our sustainable goals with a free global goals badge!
#ChooseToReuse on Thursday:
On Thursday it's all about making things last, From sewing repairs to health and safety bike checks. Once again you can bring your items in for repair, or make some beeswax wraps. It's also a chance to think about some random acts of kindness to help brighten up the community.
On Friday, Energy and Transport:
We've got some fascinating things lined up for our final day. Stop by at the St. John's Campus reception to pick up free bus and train tickets, as well as silicone card holders. Also stopping by are the British Heart Foundation for a CPR and Defibrillator workshop. We'll also be providing visitors with some free energy usage advice – important stuff!
So there we have it! Make sure to stop by for Go Green Week, and from all of us at the University of Worcester sustainability team – have a great time!