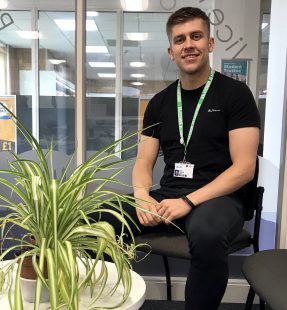 Digital Creative assistant, Francesca, recently interviewed the new Student Union President, Harry Lonsdale, regarding how he and his fellow officers propose to integrate sustainability into university life.
Check out the interview below to see how it went!
What plans do the Student Union have for integrating sustainability into university life?
I and the other officers all have different plans, but collectively we're focusing on the small changes.
We plan to work on…
Sustainability promotion for sports teams and societies – for example, how they can travel more effectively.
Signage regarding sustainable messages around the campus and continual communication with students.
Sustainable academic feedback and representation are very important.
Those ideas sound great! Do you have any other plans, perhaps on a larger scale?
Yes we also have bigger plans…
We really want to focus on Go Green Week and pushing that within societies and clubs, and the academic representation within that.
One thing that I'm really passionate about doing is creating a wellbeing space for students, adhering to one of the core 17 Sustainable Development Goals (SDG's). I think it's so important for students to be able to relax and de-stress, especially in light of the mental health survey that my predecessor Lucy Conn carried out – it had some worrying results so I want to really push this wellbeing space, and make sure the messages within that space are sustainable.
We are also looking at creating an art mural around the student union building, incorporating sustainable messages to help students understand how they can live more sustainably.
Of course, other ideas will develop throughout the year.
Is sustainability something that you have discussed with other staff members?
Yes, we have had our induction meeting with Katy, the Director of Sustainability, which was great, and I will be attending another sustainability meeting soon.
From a staff perspective, I think it is the small changes that will be effective, for example…
We will be putting fewer bins around the office to encourage staff members to walk further and improve step count.
We also want to reduce printing, so we use electronic copies where possible.
At Welcome Week and with the various Fairs that we have, all of the staff members are under the agreement that we want to promote certain schemes, such as the SDG's and how these are integrated into our courses, and Go Green Week on campus and Go Green Week in the City and our e-bike share scheme.
I think a lot of people are unaware of how good we are doing, so it's important to share good practice.
How much of a priority is sustainability?
It is very important, and I think the perfect time to implement a lot of our ideas is when the students come back in September, so September is when we want to really prioritise these ideas. We will then re-introduce the ideas at the start of the second semester. I feel these are the 2 main stages where we can really push the ideas. As well as around big events such as Varsity and freshers fairs, job fairs etc.
You mentioned the Sustainable Development Goals earlier, how much of a role do they play in your work?
We're all very aware of them, we have the SDG's up in our office and on our lanyards…
In the wellbeing space, we would like to have the SDG's printed somewhere to really showcase them.
We have picked out the ones we believe are key to university life, such as 'good health and wellbeing'.
I think signage is important in emphasising these goals. We want to make sure that the 17 SDG's are well branded and labelled around campus and showcased.
And finally, do you have any current or planned partnerships with other institutions with regards to sustainability?
We share The Hive with the County Council and the Hive is very sustainable – we want to bring those ideas to the other university buildings – City Campus, St Johns Campus, Lakeside, Riverside, the Arthouse and the Arena. It's about what we can do jointly with the council to bring into these areas, for example looking at what other energy sources we could bring in.
We are working with Worcester Bosch – we have installed 5 boilers with monitors into some housing in the St Johns area.
We have solar panels on some of the buildings with the help of the council to work towards making Worcester green.
Ultimately we are trying to achieve the same objective as Worcester City Council and Worcestershire County Council so we should all work together which is SDG 17 perhaps the most important goal of them all.
We are communicating 17 goals. The changes we do make, even if they are small, are really important because it means the students are becoming more aware of what is happening and why the changes need to happen. For example, we do not use plastic straws anymore – this is a small change that doesn't dramatically affect a student's life, but it's all making a difference.
JOIN THE CONVERSATION
Check out this fun and informative quiz where you can test your own knowledge of climate change solutions
Comment your thoughts below.
---