Another workshop I attended today was Creative Activism (We are all craftivists!), which certainly appealed to me because getting a point across in a creative way is more beneficial.
Inclusion was the main theme of creative activism!
Stitch-ins are a very popular way of getting a point across. Stitch-in have happened when activists gathered in a busy train terminal campaigning against expensive train fares, by stitching fake tickets with phrases like 'I would go on trains, if prices weren't so high' on them.
Many commuters were curious and also participated, attracting possible news stations' and social media attention, as well as word of mouth.
Their local MP's attention would heighten, as it's not a long letter that could be ignored, it shows hard work.
Engage people through creativism.
The speaker informed me of the therapeutic mental health benefits from art. What are they?
Art calms the mind, also making and sharing because you're working together, the issue involves them and the pride of making their mark on society.
I learned some really fun tactics to campaign and stand up for rights in humorous, sarcastic ways…
Nurse-in 
This one obviously doesn't apply for me, but I like the idea behind it! A woman was refused to breastfeed in a café, she organised a nurse-in with a specific time and date and numerous breastfeeding mothers attended that café in protest.
Die-in
Cyclists were annoyed by the large number of taxis hitting cyclists, so they staged a die-in at the local surgery where they got a large crowd to come in altogether with ripped clothes, fake blood and pieces of bent bicycles attached to their bodies.
Theresa May Day
Apparently Theresa May, the Home Secretary, wanted access to everyone's emails, causing Britain to act brilliantly. On the 1st November it is "officially" Theresa May Day and thousands of people forwarded their emails to spam her email address.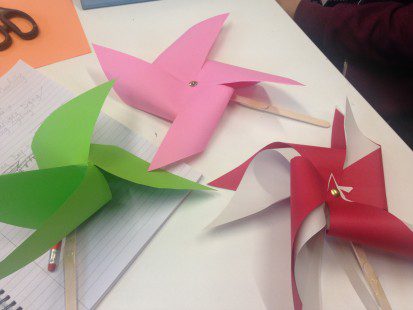 We then built our own windmill, I didn't see the point, but I guess it was the team interaction, laughter and pride (even if yours was dreadful). The activity gave me an insight into how craftivism works, but it could have had a more of a deeper meaning why we were making them.
The discussion of planning a craftivist activity came up and we discussed what campaigns people did at their university, one lady said she put tips about consent on Freshers' door handles. Being a keen creative strategist, I thought if we have a big bed, or multiple mattresses combined together, outside during a busy time on campus, there'll be many questions and they could cut up old quilts into spelling phrases like "No thanks.", or "Stop."
The table were pretty intrigued and agreed that quirky ideas like that would indeed attract curiosity and inclusion.
The idea of creative activism, craftivism and protests have really opened my eyes on how to really get important information across my campus and the community as well!