Concerned about the clothing crisis? Upcycling makes your old look new by Creative Writing Student Lisette-Elouise Powell, edited by Amber Horne.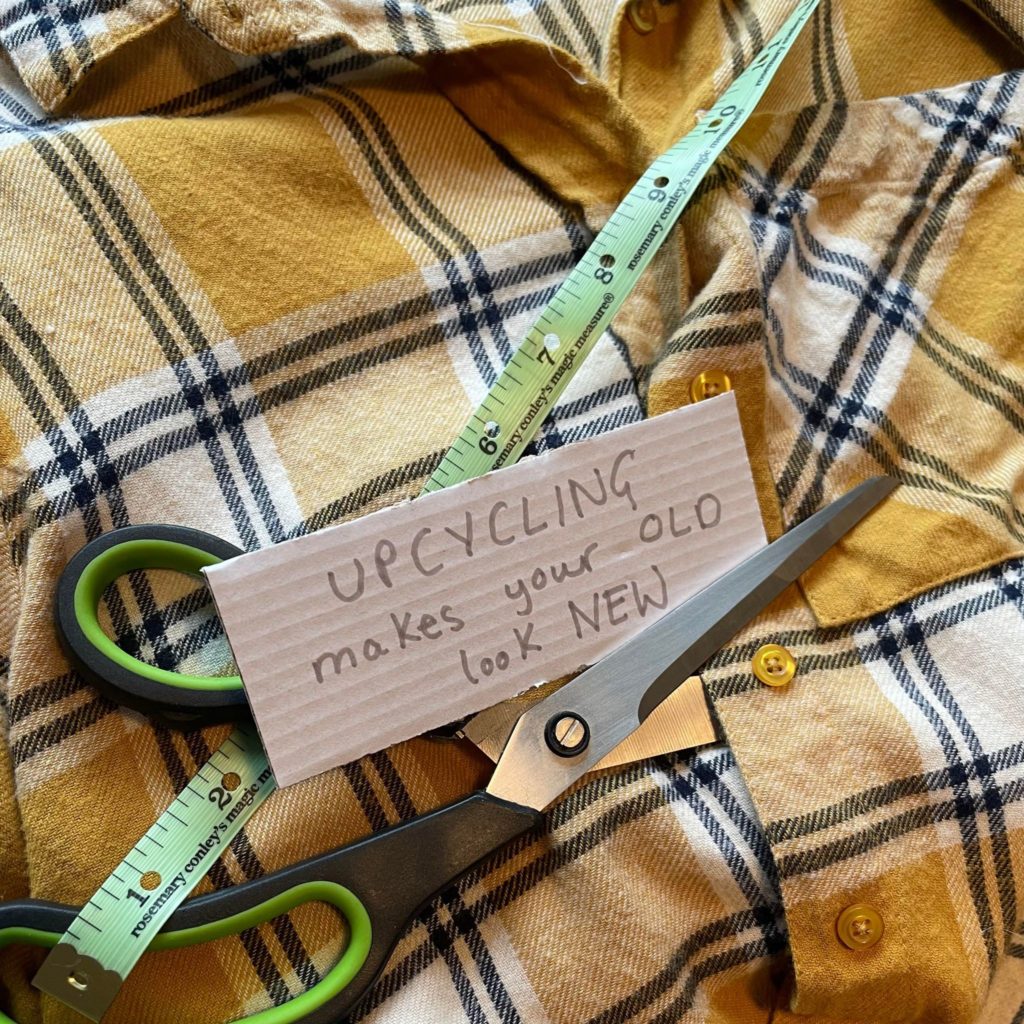 ---
What is upcycling?
Tired of throwing out clothes you used to love and spending a small fortune to replace them? Fear not; all you need are fabric scissors, a needle, some thread, and your old clothes. Upcycling is all about repurposing. It differs from recycling as instead of breaking something down to make something new, you simply reuse the material.
If you are new to sewing, on a budget, or both, don't worry! Simply searching for upcycling will lead you to many free tutorials that will start you on your journey to affordable and sustainable fashion. You don't even need to buy a sewing machine; there are plenty of hand sewing kits out there and there are many patterns, templates, and techniques waiting for you to give them a try.
---
I don't have time to upcycle
The trick is to make time. Instead of scrolling through your phone or watching Netflix, pull up a YouTube video that shows you the basics and get crafting alongside your virtual teacher! Replacing scrolling with a practical, manual task allows for you to slow down and reflect. It's a great way to de-stress between other tasks and keep your mind focused on one thing at a time. 
If you're unable to work with your hands but excited about the prospect of upcycling, show this article and the links below to someone you trust and ask them for help! Everyone deserves fashion-forward, sustainable clothes.
---
I have leftover material! Shall I throw it away? 
Not unless it's utterly unusable. Use leftover rags to create dolls for yourself or a loved one. Downcycling is also an excellent way to get the most use out of your fabrics! Start avoiding disposable kitchen towels and sponges by using cut-offs as cleaning rags and combat unnecessary waste. 
---
I'm plus-size, I have to buy new!
As a plus-size woman myself, I know it can be difficult to find clothes that fit. I recently cleared my wardrobe and gave three bin bags full to my family and a women's refuge shelter. I have clothes left that don't fit so I'm going to upsize them! Upsizing is a technique catered to increasing the size of your clothes. It's a great way to use leftover material from other upcycling projects and for you to get more use out of your favorite blouse or skirt.
---
Why should I care about upcycling?
The current fashion industry model is extremely wasteful and a key contributor to pollution. An astonishing number of resources are used to create an item destined to be thrown away after being worn for a short time. While recycling your clothes may seem to be the best choice, the chemicals involved in this process can be damaging to the environment. You can help put a stop to this. By repurposing your clothes, you are taking part in what's been coined as craftivism: upcycling rebels against the modern consumerist standard by rejecting fast fashion in favour of good quality, long-lasting and well-loved items.  
---
Sustainable Instagram competition
We want to give you PRIZES to help make this change happen! All you have to do is follow the steps below for a chance to WIN!
Here's how to enter:
Comment 3 emoji's related to today's post
Tag 3 friends
You will automatically be entered into our prize draw.
Unlimited entries, follow the above steps again. Each time is a new entry.