A successful Go Green Week collaboration in Worcester promoting the 10 Golden Rules of Living Sustainably
Volunteers and local businesses showed that small changes in daily lives can  help the environment by reducing water and energy usage, using sustainable methods of transportation, re-using & recycling, and reducing food and plastic waste.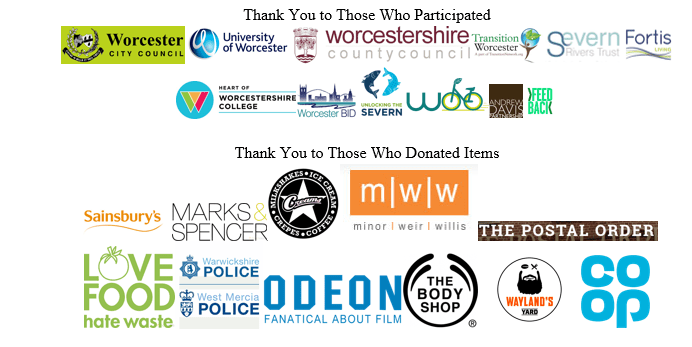 We kicked off with 'Feed the 1,000' at the Guildhall on 17 April. Trainee chefs from the Heart of Worcestershire College prepared delicious vegetable curry and butternut squash soup from donated vegetables which were destined for the bin. 1,000 plates of food the average UK family wastes each year. It's important to only shop for food you will use throughout the week, to measure portion sizes and only cook as much food as you will eat, and to use leftover food for meals the next day.
Watch a short video to see all the activities held during the week.

We are interested to measure the outcomes of these activities so asked participants some questions. Over 120 people gave their views on transportation, sustainability knowledge, sustainability tools, and sustainable behavior. The general trends show us that while a majority of our sample chose more sustainable methods of transportation to driving alone, and ¾ of the sample selected "a lot" or "a fair amount" for knowledge about recycling glass, plastic, and paper items, while only half knew the same amount about disposing of food waste.Twice as many people knew nothing or a little about disposing of food waste compared to recycling.
We were also interested in which "sustainable tools" residents in our sample had in their homes; in other words, if they had the basic necessities required for green behavior, including recycling/compost bins, programmable thermostats, light motion sensors, or solar PV. We found that while most had recycling bins, programmable thermostats, and LED bulbs, very few had light motion sensors or renewable energy systems. Many of our participants voiced concerns over the cost of installation. Finally, we looked at the frequency with which our sample practiced green behaviors. Within our sample we found the majority responded they always switch off lights or appliances, but fewer limit time in the shower or shop for items with minimal packaging.
Based on this we have identified a few key areas for future Go Green Weeks to focus on:
Promoting bike/car share schemes like Lift Share or Woo Bikes
Increasing educational materials regarding food waste disposal
Promoting programs which defray the cost of installing energy saving items or systems in the home
Promoting easy ways for residents to adapt their behavior to be more green, like purchasing reusable water bottles
We also took the opportunity to compare our results to University of Worcester staff survey results from 2017. We identified common tendencies within both sets of data, but overall found the University staff sample to be only slightly more sustainable than our sample of Go Green Week participants. Generally, the University sample was more informed about car and bike schemes. Both samples were fairly knowledgeable about recycling/donating, although the staff sample was more likely to select "a fair amount," while our sample selected "a lot" more frequently. The pie charts below show that in general, ¾ of both samples knew a fair amount or more about recycling glass/paper/plastic. We saw consistent results regarding recycling bins and other sustainable necessities, and university staff had a slightly higher response rate for "always" practicing green behaviors.

Although our survey does not establish a basis for measuring behavior change within our sample, when interacting with our participants, we were able to host valuable discussions which identified areas of concern for residents and how they could adjust their behaviors to address these. For instance, when we gave out our dried fruit samples, we were able to teach people how easily they can dehydrate their own fruit at home. Many shop visitors in our Crowngate shop did not know where to or how to shop for items with minimal packaging, and with the help of Zero-Waste Worcestershire, we were able to provide them with tips, tricks, and local businesses which could help. Additionally, many of our respondents did not know anything about repair cafes, which are hosted monthly by Transition Worcester. Thankfully, the organization was right there in the shop to teach people about what repair cafes are and how they can get involved.
Overall, we feel confident that we enacted a positive change on those attendees who interacted with us throughout the week.
We'd like to thank all of the organizations and businesses listed above for their contributions to Go Green Week, from helping with setup, table sitting at Crowngate, to donating food and material resources. We couldn't have hosted such a successful and educational week if we didn't have their help!