Children from across Worcestershire learnt about how they could make a difference to the environment at an annual University of Worcester-run event involving local charities and businesses.
The Skills for Tomorrow event saw pupils from local schools engage in interactive activities and workshops, introducing them to a variety of real world environmental issues surrounding sustainability, and quiz businesses about their practices.
Aston fields school children enjoying the skills for tomorrow event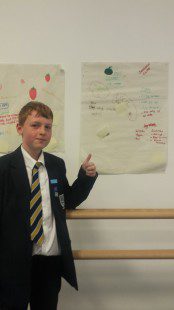 Developed by Institute of Education academics, the aim of the event is to inspire and engage young people in the issues of sustainability through demonstrating what we can do to help the environment now, in the future and how simple changes can have huge impacts both locally in Worcester and internationally.
University of Worcester students helped run the sustainability themed workshops for pupils from Christopher Whitehead Language College and Nunnery Wood High school, in Worcester, and Aston Fields Middle School, in Bromsgrove. These workshops explored sustainable food – foods which have a low environmental impact, for example ones grown locally – sustainable cities – ways of getting around which produce fewer carbon emissions – and tourism.
Businesses involved in the event, held at the University of Worcester Riverside Campus, included Interface, Severn Rivers Trust, Worcester Bosch Group, Gtech, Rotary Shelter Box, Borroclub, Neoperl, and Speller Metcalfe. Their displays included carpets made from recycled fishing nets which were harming coral reefs, a shower that saves water, energy saving boilers and a local ice cream vendor who gives some of its takings to charity.
The Severn Rivers Trust brought a water flow simulator, which allowed children to use different pieces of equipment to block the flow of a 'river', which allowed them to better understand the effect of weirs on certain fish species who are unable to get upstream to lay their eggs.
Charlie Moore, 12, said:
"I enjoyed the river conservation demonstration. It was fun and interesting It's important to hear what's being done in terms of the environment because there's lots of things that are going wrong because of pollution, lots of wildlife that is dying It's important we do something about it."
The Trust showed pupils its plans to create diversions around the weirs, such as the one at Diglis. Alice Fallon, Education Officer for the Severn Rivers Trust, said:
"It's really nice to show the different career opportunities that are available in conservation on big projects like this."
As highlighted by Alice Fallon the event also provided a platform for students to become aware of a large range of career possibilities that are on offer within the field of sustainability.
Pauline Watmore, Careers Advisor and Coordinator at Christopher Whitehead, said:
"It's a fantastic opportunity to impress on young people the importance of living environmentally, which they can they share with their family."
James Crane, Gtech's Senior Project Demonstrator, who showed pupils the company's electric bike, said:
"It's a very good event and it's important to show children what there is out there in terms of further job prospects as well as helping save the environment."
Student ambassador tries out the Gtech electric bike
University's Director of Sustainability, Katy Boom, said:
"The opportunities for learning and sharing ideas that Skills for Tomorrow provides impresses me more each year we hold this event. Everyone attending takes away new learning and inspiration."