Concerned about the clothing crisis? Buy second hand for sustainability written by Julie Kovacova, edited and images by Heather Sykes
---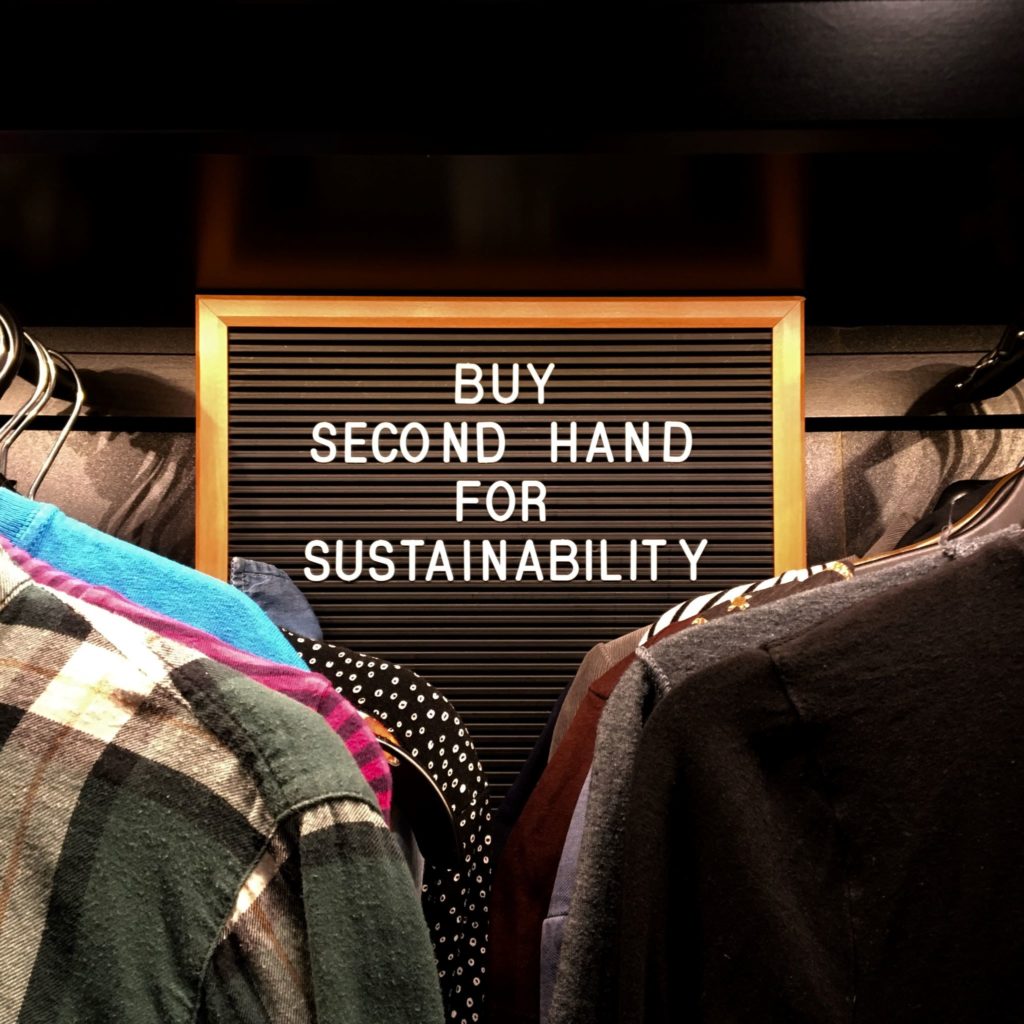 When you buy second-hand clothes, you can make fashion more sustainable. It also sounds cool when you tell your friends you found a real gem in a charity shop. There are a few key points that could persuade you to quit fast fashion. These include environmental benefits and ethical benefits. Also, you can save money whilst looking cool.
If you buy clothes from non-sustainable shops, you contribute to the demand for fast fashion. Buying from these stores can also be investing in ethical issues at the other end of the production line.
We will also look at where and how you can buy second hand in Worcester. This way, you can find the local places to browse when you are next looking for something new.
What are the environmental benefits when you buy second hand?
There are lots of environmental benefits when you buy second hand rather than new.
With every item we buy, we must consider how it was produced and how much pollution it has created. That includes how much fuel has been used for it to be shipped to the store, or how much water you use to wash it, and much more.
We already create a large carbon footprint with our day to day wearing of clothes. Washing one shirt throughout the year will use around 120 litres of water. Jeans typically use less. Using around 70 litres a year to wash. However, the denim industry comes with its own separate environmental issues.
The resources used to make the colour in denim creates a multitude of problems. One of them is the water pollution created in production. When distressing denim, chemicals are used that are very harmful to the environment. It can also be dangerous to the health of the workers.
It is important to be conscious of these hidden carbon footprint contributors.
This makes it even more important to reduce the other aspects of our environmental impact. For example, the pollution from production is cut significantly when you buy second hand, as no new clothes are made. You are also potentially stopping an item from ending up in a landfill site.
Another way the environmental impact is cut when you buy second hand is through shipping. Fuel is used to get our clothes from one side of the world to the other. Often, when you buy second hand, the distance of shipping is considerably smaller. You can walk or cycle to your local charity shop.
Fast fashion promotes exploitative work conditions
Moving on to a serious note, buying second-hand clothes doesn't directly promote exploitative work conditions. Whereas buying new can.
You can think about it as slavery in the Third World. Employees often work in awful working conditions, at a pay far below minimum wage. All that for clothes at a cheap price. We try to forget what we know when we shop. Not to think about those conditions.
We can all try harder to not be that person. Boycott those big brands that you know are not ethical or sustainable.
Save your pennies
There is a more light-hearted benefit to charity shopping too. When you buy second hand, it can save you a fortune.
That is why I love it personally. I wasn't fond of charity shopping when I was younger. Probably because my mum was the one choosing the clothes. But now, every time I have a journey around a couple of second-hand stores in town, I always dive in. It's always a pleasure to come back home with a cheap and good looking saved item. And it feels good to know that the way you shopped, helped reduce your potential environmental impact.
Buy second hand because the vintage style is 'in' again
Vintage style is trendy. At SusThingsOut, we love all things sustainable. But when it comes to fashion, it's an added bonus to look good whilst being sustainable.
So, next time you can't choose from anything on the shelves in the big shops, try your local charity shops. There is an authentic look you get from buying second hand. You can't quite achieve it when buying expensive pieces from chains and following the trends.
If you want to buy new, consider a sustainable and ethical brand. Look into who you are buying from. Don't be drawn in by sales and deals.
Where and how can you buy second hand clothes?
Worcester is filled with the most wonderful selection of charity shops. If you haven't had a wander of our historic high street, it is well worth your time. Enjoy a stroll and pop into a couple of the charity shops.
There is an Oxfam on Mealcheapen Street. Worcester has multiple Age UKs, one of which is also on Mealcheapen Street. And there are many more you can check out.
If you are stuck at home and need another alternative you can buy second hand online. Oxfam does offer the option of an online shop. Or sites like Depop and Vinted are great for this. You can search the item you are looking for, filter size price and brand etc. then scroll through the results. This way, you are saving a pre-loved item of clothing to use again.
Sustainable instagram competition
We want to give you PRIZES to help make this change happen! All you have to do is follow the steps below for a chance to WIN!
Here's how to enter:
Comment 3 emoji's related to the post on our Instagram @uw_sustain
Tag 3 friends
You will automatically be entered into our prize draw.
Unlimited entries, follow the above steps again. Each time is a new entry.
SDGs