Beautiful handcrafted gifts in Worcester
Q. What do a reindeer, a pincushion, silly specs and washing up liquid have in common?
A. They're all found in the Pump House Environment Centre's Eco Shop.
The Pump House in Worcester is run by environmental charity, the Duckworth Worcestershire Trust and as well as hosting an ethical café and space for meetings, the building aims to showcase sustainable technologies and green products.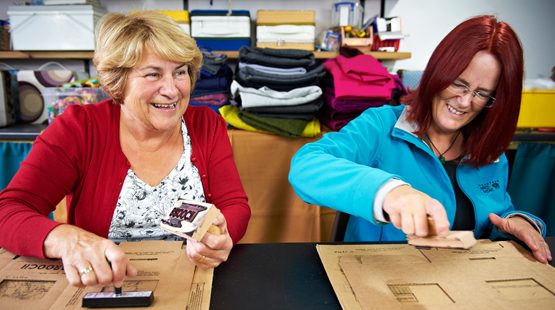 Roisin Hanks Project Manager at the The Duckworth Worcestershire Trust, Pump House Environment Centre, explains:
"Products for sale include new environmentally friendly cleaning and personal hygiene products but the Centre is also the only place in Worcester where you can buy refills for these products. In addition, the shop stocks a colourful variety of WREmade kits, Reindeer, Fox and Friend, Jumping Jacks and Fish on a Stick to name just a few."
WREmade is part of WRE, the Worcestershire Resource Exchange, another project of the Trust. The environmentally friendly products are made by a team of 'Wremaker' volunteers using materials such as off cuts and remnants collected from local businesses and industries, which would otherwise have ended up in landfill.
The lovely Wremaker volunteers then help sort, cut and assemble the materials and transform them into beautiful 'make your own…' products. Even the boxes are made from rescued cardboard and then lovingly hand stamped with ink.
So, if you are looking for a unique gift or just need to get round to sorting out that pile of dirty dishes and laundry, consider the Pump House Environment Centre as your next stop.
Find out more on Facebook and Twitter.