Thinking about sustainability in a place where settled human activity has continued for millennia brings new perspectives. Seeing how places such as pubs and cathedrals carry on human patterns of activity alongside innovative university/town partnerships such as The Hive has been inspiring. I'm also seeing new meaning in "Keep Calm and Carry On" as a helpful motto for continuing to work on very challenging issues such as climate change and environmental racism.
Through the Fulbright Specialist Program and the US-UK Fulbright Commission I've been able to spend two very enjoyable weeks with folks at the University of Worcester. The purpose of this exchange was to better conceptualise a university culture of sustainability. Culture of sustainability is meant to reflect a set of attitudes, behaviors, levels of understanding and commitment, degrees of engagement, and dispositions among a population such as members of a university community. While many institutions of higher education have committed to campus greening initiatives (energy conservation efforts, expanded recycling, etc.) only a few institutions – such as the University of Worcester and the University of Michigan are working to promote a culture of sustainability leading to longer term impacts. I first learned of Katy Boom's work at UW about two years ago and it's been great to learn more about her work and that of others at Worcester. Here's a link to our work on this topic at the University of Michigan– the Sustainability Cultural Indicator Program.
Here's a brief summary of some of the things we're worked on during my visit:
Identifying opportunities for expanding sustainability efforts at UW
Outlining efforts to promote sustainability culture programs
Discussing initial ideas for working with SMEs on sustainability culture
Potential next steps for developing an ongoing partnership with UM
UM is one of the leading public research institutions in the US, with more than 45,000 students and 40,000 staff across 19 schools and colleges. In my position at the Graham Sustainability Institute, I work with many others across the university to move our institution towards a more sustainable future involving members of community with partners in the local community and around the world. Like UW, we struggle to find the right balance of efforts working with the growth of our institution and the principles of sustainability. Also, like UW, sustainability has become one of our key institutional priorities.
Here are some of the highlights of my visit:
Meeting with staff at UW to share our experience at UM and enjoy a great lunch – what a feast!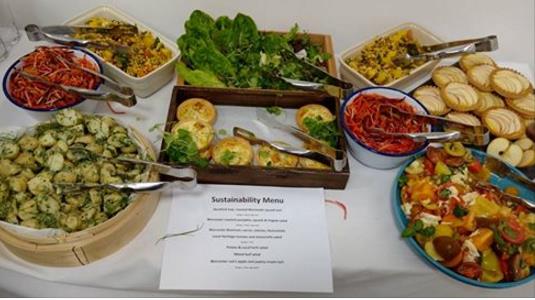 Hiking to the top of Cadair Idris in Snowdonia National Park, Wales – what a view!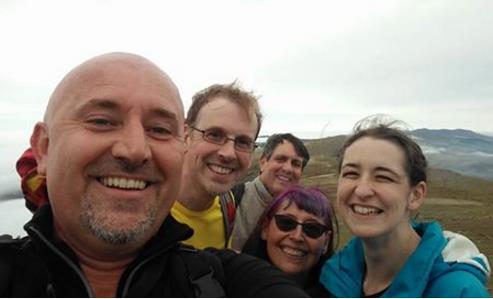 Attending Carbon Journey in Birmingham – a climate program for all second year students at Aston University and Birmingham City University – what an event! "It's not weather. It's how." What might be the impact if an event like this spread to all the universities in the UK and the US?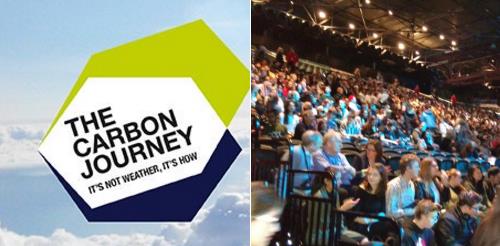 I've also had the chance to meet and talk with students at Worcester and hear about their interests in sustainability and ongoing projects. I've been very impressed with the strong voice of students for sustainability within UK institutions of Higher Education. The work of the People and Planet's University League and the National Union of Students are particularly impressive. At the University of Michigan we have found that student voices for sustainability are often the most impactful. I encourage Worcester students to stay committed to sustainability efforts as your efforts now will make all the difference for future generations!
Cheers-
John
Illustration Kirsty Dea third year illustration student