In April 2019 the  Times Higher Education launched the inaugural University Impact Rankings, a pioneering new initiative to recognise universities across the world for their social and economic impact, based on the United Nations' Sustainable Development Goals. They had a high level of interest, with over 560 institutions participating and 466 ranked in the overall rankings.  The University of Worcester was one of the inaugural participants.

Being ranked first in the UK for Gender Equality and for Quality Education is particularly pleasing especially as we are the highest-ranked institution in the overall impact league that doesn't feature in the research-focused THE World University Rankings.
Overall we were ranked at 33rd place, our strongest areas are gender equality and responsible consumption and production.
In 2012, the university opened Europe's first fully integrated university and public library, while the institution is home to the first indoor sports hall in the UK that was purpose designed to include the wheelchair athlete.
David Green, vice-chancellor and chief executive at Worcester, said that the institution was
"deeply committed to a democratic culture of inclusion, educational excellence and beneficial impact in society".
A variety of different metrics were used for each of the 11 SDG's being ranked in the inaugural year.  Three examples from Worcester are shown below.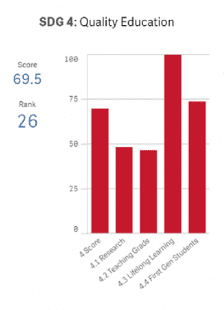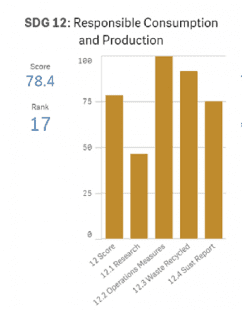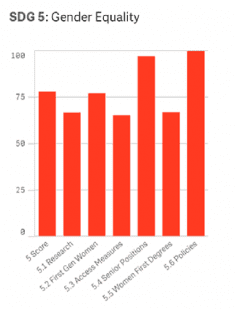 These high ranking top 50 in the world positions in a diverse range of SDG's demonstrates our inclusive approach. The University is noted for and campaigns on issues related to mental health, particularly amongst young people. Worcester was one of the very first universities in the UK to appoint specialist student mental health counsellors and is playing a leading role in partnership with the National Union of Students and others on making universities and cities 'suicide safer' through early intervention.
The Hive Library, Europe's first integrated University and Public Library, is a day to day encouragement to active citizenship. It is the second most visited public library in the UK.
Our annual Children's Storytelling Festival is one of the largest in the country. The University of Worcester Arena is the first indoor sports arena purpose designed to include the wheelchair athlete. In 2018 the University of Worcester Art House opened, achieved an RICS SKA Gold award for the refurbishment which will also become a centre for children's creative camps as well as a magnificent space for the University's many Art and Illustration students. These buildings characterise our inclusive community approach, with hundreds of thousands of people every year visiting and participating in activities in each building.